Start selling your products online with Magento and Magento Hosting from our Cloud Hosting Cluster
Magento Hosting stands out as one of the most popular choices for online businesses all around the world with more than 150,000 + deployments.
With a rich set of features providing enterprise-class functionality and ease of use to users and store managers alike, Magento Hosting Commerce and Fastdot Cloud Hosting bring the best experience to your online retail store.
Magento Hosting Commerce can boost profitability through better conversion rates, increased visitor numbers, cost-effective implementation and multi-store, multi-country and multilingual support. It's imperative to achieve a 99.9% uptime guarantee, which Fastdot can offer for your Magento Commerce Store.

Magento Hosting Pros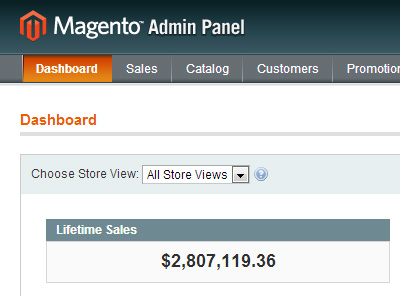 Extremely powerful, robust and scalable
Strong development team: Updates are frequent and bugs are quickly attended to by Magento Developers
Technical Support: Enterprise clients receive top-notch multi-lingual 24/7 support across the globe from Magento Support.
Community Support: With a professional, established developer community and over 60,000 online merchants powered by Magento; finding support for common setup/configuration as well as advanced coding issues is never too far away.
Advanced SEO/SEF functionality out-of-the-box (well formed XHTML source code and optimized 'pretty' URLs).
Comprehensive Layered Navigation: Search filtering functionality in Magento is leaps and bounds ahead of its counterparts
Advanced API (SOAP) functionality – System is very flexible due to modularity and independence of core with separation between core and user modules. This makes it the best choice for integrating shopping cart functionality alongside existing ERP, CRM or Accounting business systems.
Powerful multi-store/site features: Offer products/services globally across multiple sites and vendors. Allows you to create and manage multiple storefronts from the one centralised admin dashboard.