"WordPress is web software you can use to create a beautiful website or blog. We like to say that WordPress is both free and priceless at the same time." – WordPress
With WordPress Web Hosting from Fastdot Web Hosting, you can rest easy that not only are you using the leading content management system to create and manage your website, but that you are also using the industry leader in WordPress Hosting.
Free WordPress Hosting Theme Previews:
WordPress has been built with full customization in mind, with templates to generate the pages dynamically, so it is very simple to change the look of your blog by installing new templates or modifying existing ones. There are thousands of free themes available for WordPress, simply do a search with your favorite search engine to find one that suits you and install it. With WordPress Hosting from Fastdot, you can easily install your favorite themes or plugins.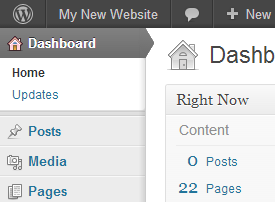 WordPress also supports thousands of community developed plugins to extend its core functionality, including plugins to improve your SEO ranking, to connect your site to other WordPress blogs, or to manage comments on your site.
Publicizing your blog is easy with WordPress and Fastdot's WordPress Hosting Platform, RSS1 RSS2 and ATOM feeds are fully supported. Just about any page on your weblog has an associated feed that your readers can subscribe to, making it easier for you to spread the word around the world. Inter-blog communication is also supported by WordPress as it comes ready for Pingback and Trackback, two very useful ways of connecting to other weblogs, and to enable them to do the same on your WordPress Hosting with Fastdot.
100% WordPress Compatability
Fastdot supports all the WordPress hosting requirements:
PHP 5.2.4 or greater
MySQL 5.0 or greater
The mod_rewrite Apache module
Having WordPress Hosting installed in your own hosting account gives you complete control over your website or blog. Unlike third-party hosted WordPress services, you can be sure of being able to access and modify all the code related to your website, in case you need to.
WordPress is an award winning CMS:
In 2007, WordPress won a Packt Open Source CMS Award.
In 2009, WordPress won the Packt best Open Source CMS Awards.
In 2010, WordPress won the Hall of Fame CMS category in the 2010 Open Source Awards.
In 2011, WordPress won the Open Source Web App of the Year Award at The Critters.
Why host your WordPress Website with Fastdot?
Extremely secure WP Hosting with Mod Security, our Web Application Firewall.
Each account is isolated for maximum security with CloudLinux.
Servers are pumped with A-grade hardware and never over-subscribed for maximum performance.
Installatron will install latest version of WordPress for you.
WordPress is easy to install with Installatron, our 1-Click Script Installer.