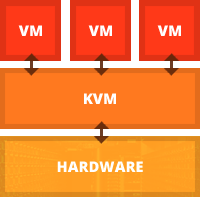 The KVM model introduces an approach to virtualization that is fully aligned with Linux architecture and all of its latest achievements. We'll be discussing the benefits of Xen vs KVM Hosting in this Cloud Comparison Guide.
Furthermore, integrating the hypervisor capabilities into a host Linux kernel as a loadable module can simplify management and improve performance in virtualized environments, while minimizing impact on existing systems and improving overall stability, security and performance.
Xen vs KVM
So, why does Fastdot choose KVM VPS hosting over Xen VPS Hosting?
KVM is officially supported by RedHat. Xen support will be dropped in the near future to make way for KVM. This is a good indication that the KVM project is well-funded and is constantly being improved.
KVM can run on any upstream Linux Kernel release, without the need for a custom Dom0 (host) kernel. This means KVM is continuously reaping the benefits of all the work that is / has gone into the Linux kernel.
KVM supports Linux, Windows, Solaris, and BSD to-boot. There is no need for additional drivers, only a CPU HVM tips.
KVM introduces many performance benefits, such as less I/O latency and the lack of proxy architecture. This means the round-trip time to the host OS is signficantly decreased.
KVM has greater visibility to the host OS, delivering greater device/driver pass-through and management from the host.
The KVM architecture is extremely lean, as KVM is built directly into the kernel, and with only a virtio driver required for I/O and network operations. The passthrough is elegant, as it's extremely direct:
VM -> Virtio -> CentOS with KVM

Comparitevly, Xen adds a second layer to the process, as all I/O and Network Processes are proxied through the Dom0 which runs on top of the Host OS, from there it trickles through the custom Xen kernel:
VM -> PV-OPS Driver -> Dom0 -> Xen Hypervisor
KVM treats each VM as an active process, this means the application is eligible for native scheduling and runtime.